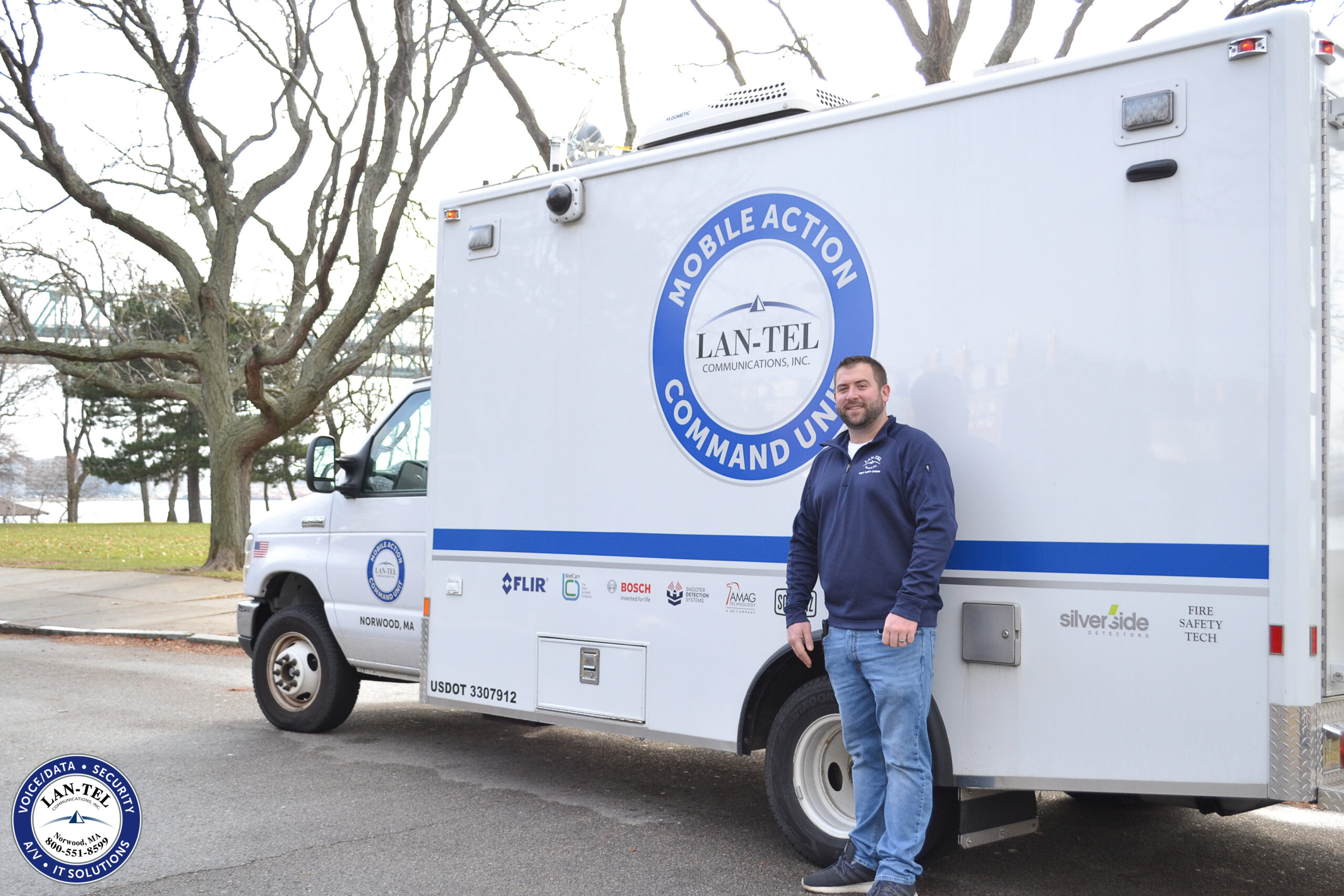 Scott Whitcomb started out his apprenticeship with LAN-TEL in the Audio-Visual Group and has worked his way through various concentrations learning many aspects of the services LAN-TEL provides. In 2017, as an apprentice, Whitcomb assisted in the installation of security cameras at Sportmen's Tennis and Enrichment Center in Dorchester following some vandalism.
Upon graduation from the JATC in the summer of 2021, Scott was welcomed into our Public Safety Group as a technician. The focus of this department is helping police and fire departments across the Commonwealth through the installation and maintenance of the variety of systems LAN-TEL provides. Some examples would be citywide surveillance cameras, alert systems for fire houses, gunshot detection platforms and dispatch/communication center work.
A unique aspect of Scott's work includes the 24/7 deployment of the Mobile Action Command Unit (MACU.) LAN-TEL's MACU is used to assist police departments with mobile surveillance and security as well as a command center at public events or emergency situations.  Scott is one of our technicians who is well versed in the capabilities of the MACU and is always ready to utilize his knowledge to assist law enforcement, and that happens to be a favorite part of his job.
Scott says he doesn't quite have a favorite project, but he loves what he does every day. He believes his work ultimately saves lives, prevents crime and his day-to-day work feels very rewarding to him.
When asked for some advice for tradespeople just entering the workforce, Scott said keep your eyes and ears open all the time and never stop learning! Things like cabling, networking and methods of implementation are always changing.  Keeping up with those changes is the only way to give customers the best systems possible.
On a day off, you can find Scott spending time with his wife and kids taking day trips and visiting fun spots like the zoo!
Thanks for all you do, Scott!