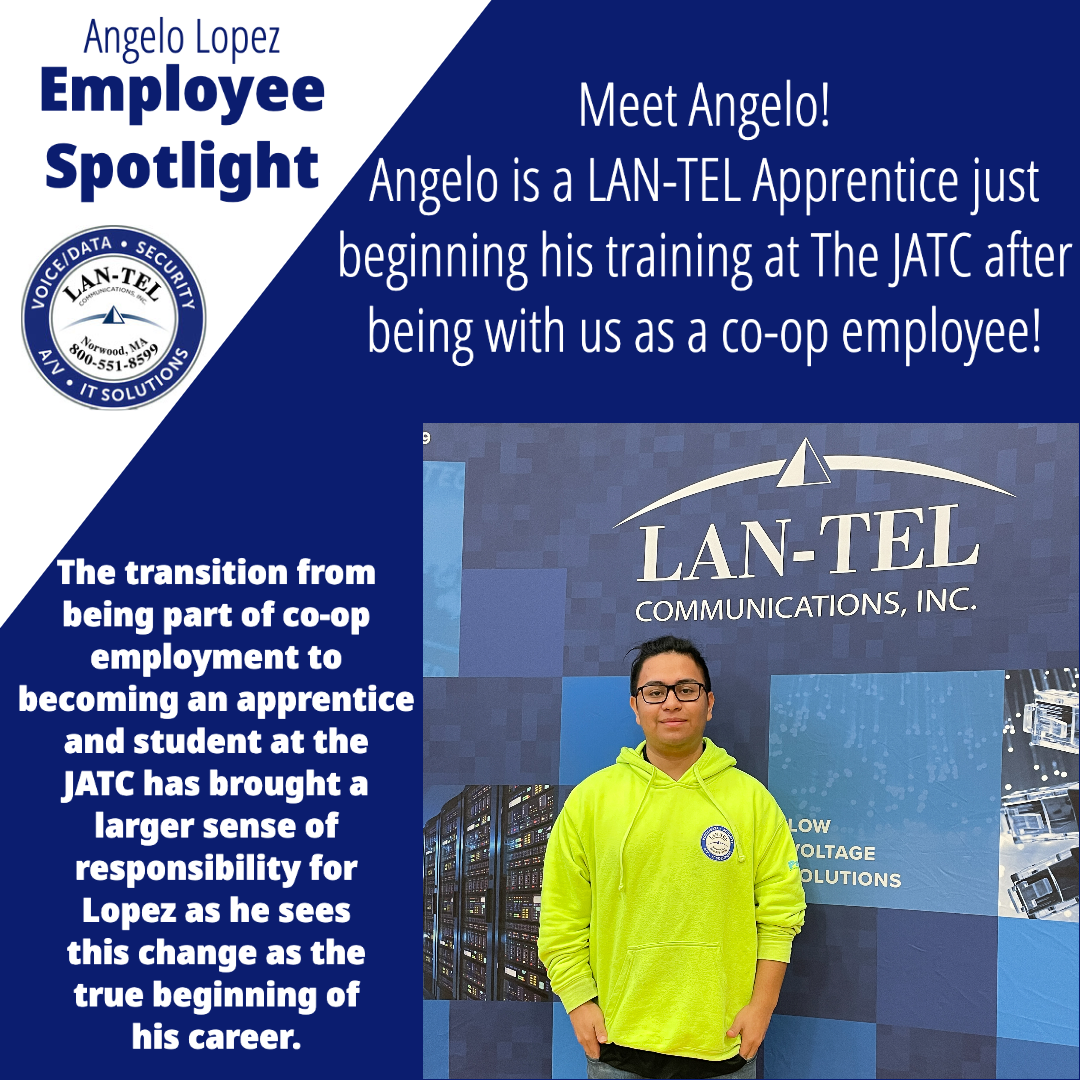 Meet Angelo Lopez
Angelo began at LAN-TEL as a co-op employee from Madison Park Technical Vocational High School. He started his work with us by learning to pull cable, mount cameras, and perform prefabrication work while learning all he could at the direction of the general foreman and technicians he worked with.
It is with great pleasure that we share that on December 9th Angelo will begin his classes at the Joint Apprentice Training Center, a training center in Dorchester, Massachusetts that is a collaborative effort between IBEW Local 103 and NECA Boston to bring amazing tradesperson talent to the area. Angelo feels that his time with his General Foreman and coworkers has made him more prepared to begin his time at the JATC while also continuing his work with LAN-TEL.
The transition from being part of co-op employment to becoming an apprentice and student at the JATC has brought a larger sense of responsibility for Lopez as he sees this change as the true beginning of his career as a LAN-TEL technician and a member of IBEW Local 103.
Angelo is excited to begin his classroom learning and for all the advanced knowledge he will gain over the years. He feels that his apprenticeship will benefit him by helping him see different types of work being done even before it is introduced in the classroom, and he will have the opportunity to ask questions and learn about it in the field.
Angelo benefited from his hard work, perseverance, and the guidance and mentorship of others to succeed in his acceptance into the JATC and begin his career. He has already begun paying it forward by accompanying LAN-TEL to Madison Park and Chelsea High Schools to share his experience and inspire others to pursue a career in low-voltage electricity.
Way to go Angelo!